Bay windows offer increased ventilation, versatility and increase natural light. The aesthetic appeal and increased square footage of bay windows increase your home value but, they can sometimes be difficult to decorate. Here are four ways others have decorated their bay windows:
Bay Window in a Farmhouse Kitchen
Dwellings – the heart of your home added a bay window above the sink of her Farmhouse Kitchen. She chose this type of window because of the childhood memories created at both her grandmother & mother's kitchen window.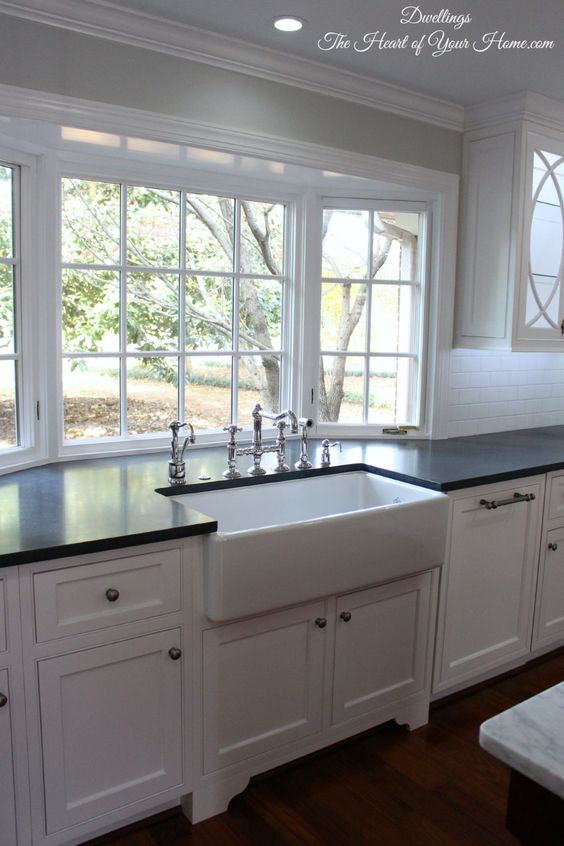 "My mother's kitchen window is still a favorite spot of mine. Though she does have an automatic dishwasher there are many times we wash things up in the kitchen sink.  Mom's kitchen window is always a bright and sunny spot.  The sun streams in while we are hand washing and magical colors form as the sun's rays dance on the sudsy bubbles.  And as we rinse those colorful bubbles away the dishes just glisten, sparkly clean as the sunlight dances on the rinse water dripping from the dinner plates and glasses.  Surely this favorite spot also has more to do with begin alongside my mom, but the bright and sunny window sure adds a special something."
For more farmhouse inspiration that was used to create this space visit here.
Creating Storage Under Bay Window
Contractor Kurt helped homeowners take advantage of the extra square footage from their bay window to create storage & a window seat.
"Some really awesome friends of mine decided to take advantage of the space in their living room bay window by adding a window seat with storage for their piano books.  They felt the space would be more useful for them with a built-in seat, and the extra storage would alleviate any clutter near the piano."
Living Room Couch in a Bay Window
Oh Happy Day had a difficult time working with the space in her bay window to creating the right layout. She had a custom couch create to get the most space out of their bay window.
"It was EXACTLY what we needed. The room all of a sudden felt bigger and the layout finally felt "right." It's funny to me how a big part of design is just problem solving and trying out different options until it works."
Window Seat Under a Bay Window
Thrifty Decor Chick added a window seat with storage to her bay window.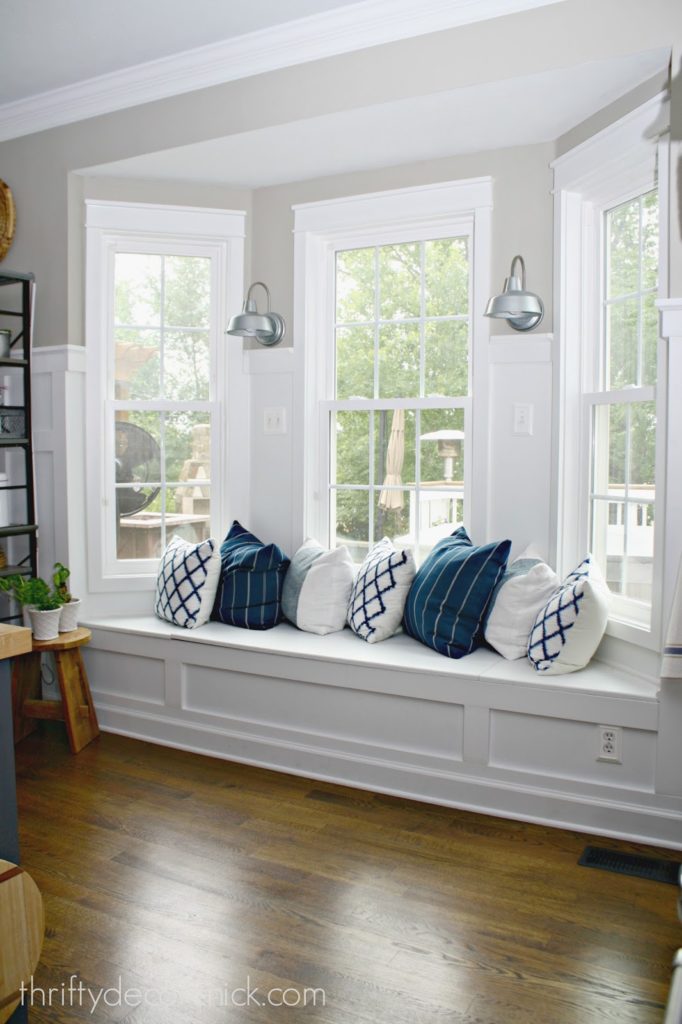 "That window seat is one of my favorite spots in our entire house. I absolutely, positively adore it. AND it offers tons of storage."
Bay windows may be tricky to decorate but they are well worth the extra forethought! To add bay windows to your home click here.