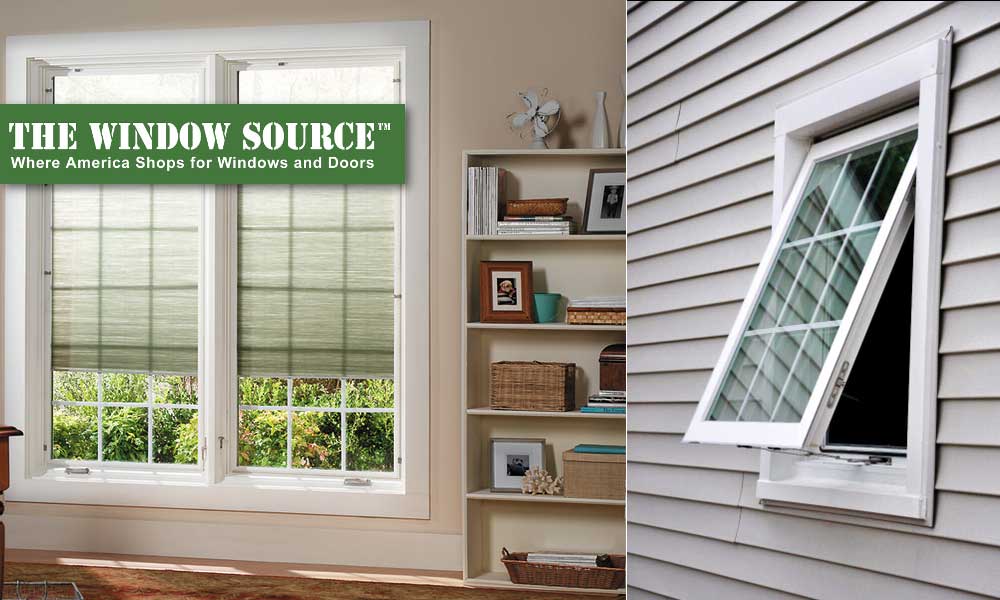 Are you looking for custom casement windows & awning windows for your Massachusetts, New Hampshire, and Southern Maine home?
If you are looking for casement windows or awning windows in your New England home, then you have found the right company! The Window Source offers the highest quality casment and awning windows to our homes that are both affordable and energy efficient.
What are casement windows?
Casement windows (also referred to as crank-out windows) have a single sash that opens outward on a vertical axis by operating a crank that is attached to the sash with heavy duty hinges. The hinges can open the sash to a full 90 degrees. Such a large opening allows for easy cleaning from inside the home as well as maximum ventilation. Casement windows feature a multi-point locking system that closes the unit tightly from a single lever.
Casement windows are often considered the most energy efficient of all operable window styles. Casements may be joined together into double, triple or quadruple units.
What is an awning window?
An awning window has a single sash that opens outward on a horizontal axis. In terms of construction, utility, and function, awnining windows are very similar to casement windows. Obviously, the only real difference is that they open on a horizontal axis as opposed to a vertical one.
Awning windows are also considered extremely energy efficient.
When should I consider casement or awning windows?
Casement windows and awning windows are great for hard-to-reach areas like over a kitchen sink or in a projecting window like a bow or bay are excellent locations to consider a casement window. The single crank operator can open and close the window with ease. Also a casement will allow more light and visibility that other styles.
Casement and Awning Window Features
Our casement and awning windows have the following features:
multi-chambered 3.25″ vinyl frames
fusion-welded sashes and mainframes
sash opens a full 90 degrees for easy cleaning and to meet egress code requirements
heavy duty foldable crank and hinge operating hardware
multi-point locking system with easy single lever operation
warm edge spacer system
meets Energy Star requirements with LowE/Argon
100% Transferable Lifetime Warranty